●WHAT IS "ECO-HOUSE"?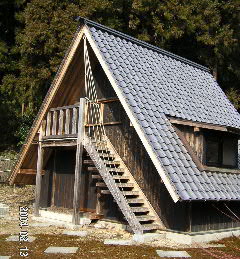 This eco-house uses the tree thinned out. These trees are normally thrown away. The use controls useless deforestation of the wood. I am convinced that this reformative activity improves the global environment.

Also, we cooporate with "Woodmiles(NPO corporation)" to spread this ecoactivity. If you are interested. Click here.
●What is the feature?
It uses the tree thinned out.
It enables conservation of energy by insulation with wood.
It prevents the sick house syndrome.
It is easy to dismantle and to move it.

You can see them when you come to DAIChIJI.


---
SAMPLE
ECO-HOUSE
A left photograph is the first house built with an original industrial method.
BInterior of rest room
Under construction
Rest room
These rest rooms were repaired by an original industrial method.